Citizen app for urgent information
Improved direct information to citizens
With a customized version of the Innocode Citizen App, you can quickly improve targeted citizen information. While our everyday lives are flooded with digital information, it is becoming increasingly difficult to reach citizens with relevant, accurate and timely information. As people get used to information finding them, fewer and fewer actively seek out information themselves.
Many young people and adults are now anxious and afraid. They need information, increased sense of security and better understanding.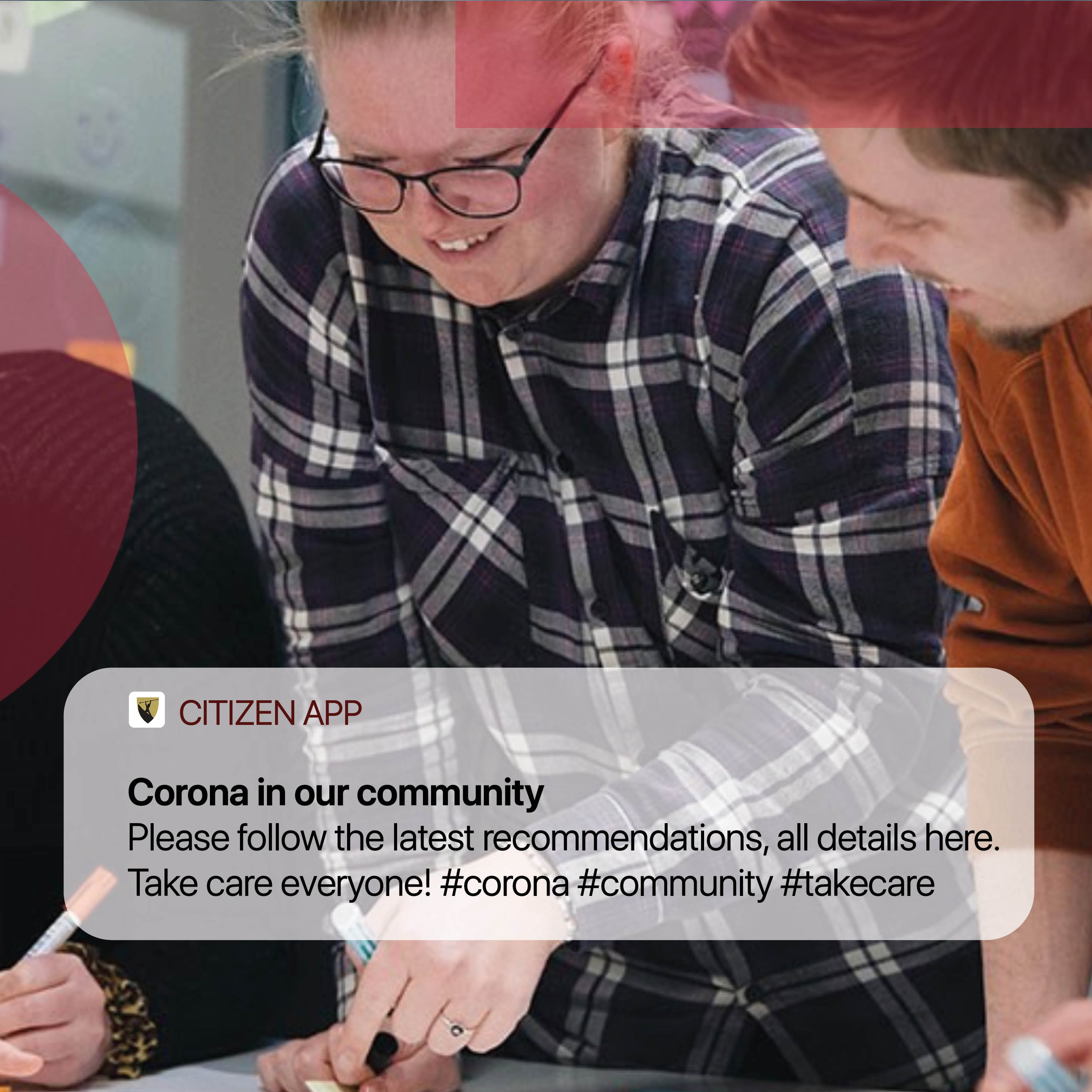 In-app push notifications reach everyone in seconds
A push message reaches users in seconds and is an efficient way to ensure that new and important information reaches groups who need it quickly. The Innocode solution includes the ability to send messages to all users, or target broadcasts based on location or users' preferred interests.
An overview of the most important information.
A page with the most important messages right now. Can be posted with or without push, and the sender can decide how long messages should remain on the page. Categories and icons tailored to city preferences.
Correct and local information
In order to prevent duplication, we collect the information from the original source, the city's website, local, state or federal health authorities etc. The information appears as a separate page in the app.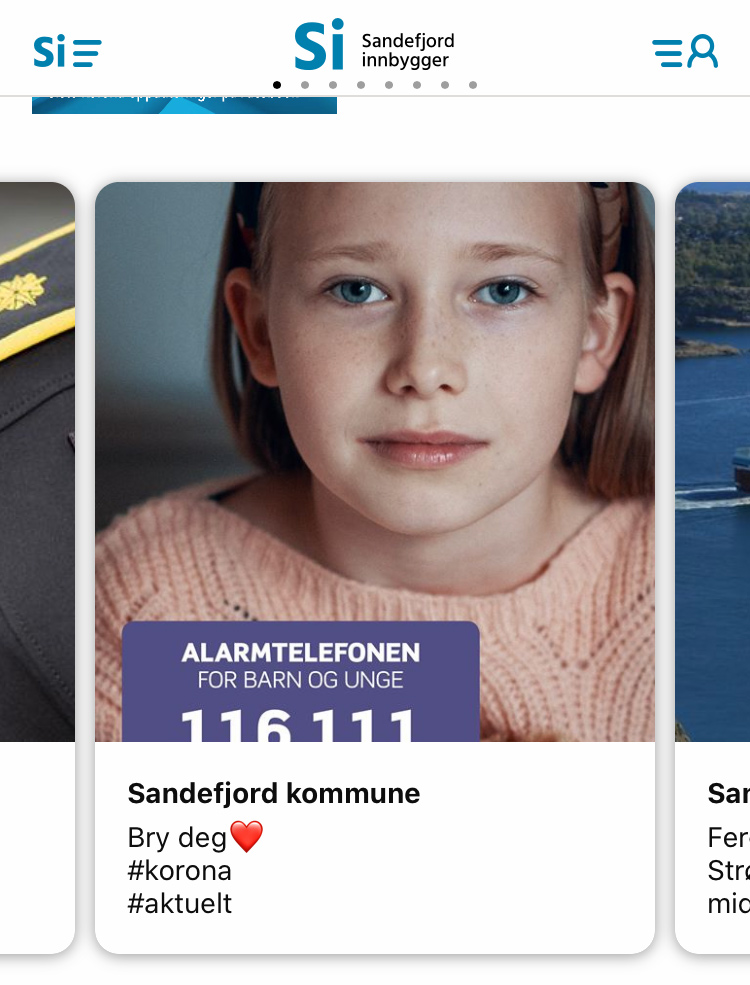 From start to publish in a week
The solution for direct information is the first building block in the Innocode Citizen Platform and can be set up in record time. Other building blocks such as smart sensor information and content from local organizations can be added later.
Here is an example of a lightning-fast setup for clients who are prepared to make immediate decisions and quickly provide information to our teams.
Day 1
– app information, technical information, names, graphic elements, developer account, and more.
Day 1 - 6
Work initiation related to identification of content sources, menu structure and internal processes such as responsibilities and routines, management buy-in and planning of launch.
Day 1 - 4
Setup, technical implementation. We give the client access to an early version for internal testing and training within the first few days. Approval and preparation for publication.
Day 3-5
Training, organization and app structure
Day 4-5
Publishing in the App Store. Usually 3-5 days approval time. Google approval significantly faster.
The solution includes the following:
App for iOS and Android
Ongoing updates and maintenance
Sources
For processing and filtering of information feeds from RSS and social media.
Superlocal
Dashboard for menus, personalization, content streams, push notifications and more.
Pulse
Web-based information tool for sending targeted information from the city and message center in the app.
This is how the app can be used for correct, relevant and timely coronavirus information
The Norwegian city of Sandefjord (population 50,000) decided in March, 2020 to make its citizen app its most important tool for keeping citizens updated on information regarding the new coronavirus. The changes were implemented in less than an hour, with the latest news from the city, a separate messaging channel, the latest news from Facebook and an overview of information from national and state authorities on social media.
An SMS was sent out to residents, along with ads on Facebook and in the local newspaper,  requesting that the app be downloaded. Within three days, almost 10,000 new users had started using the app and the municipality has now passed 20,000 total downloads.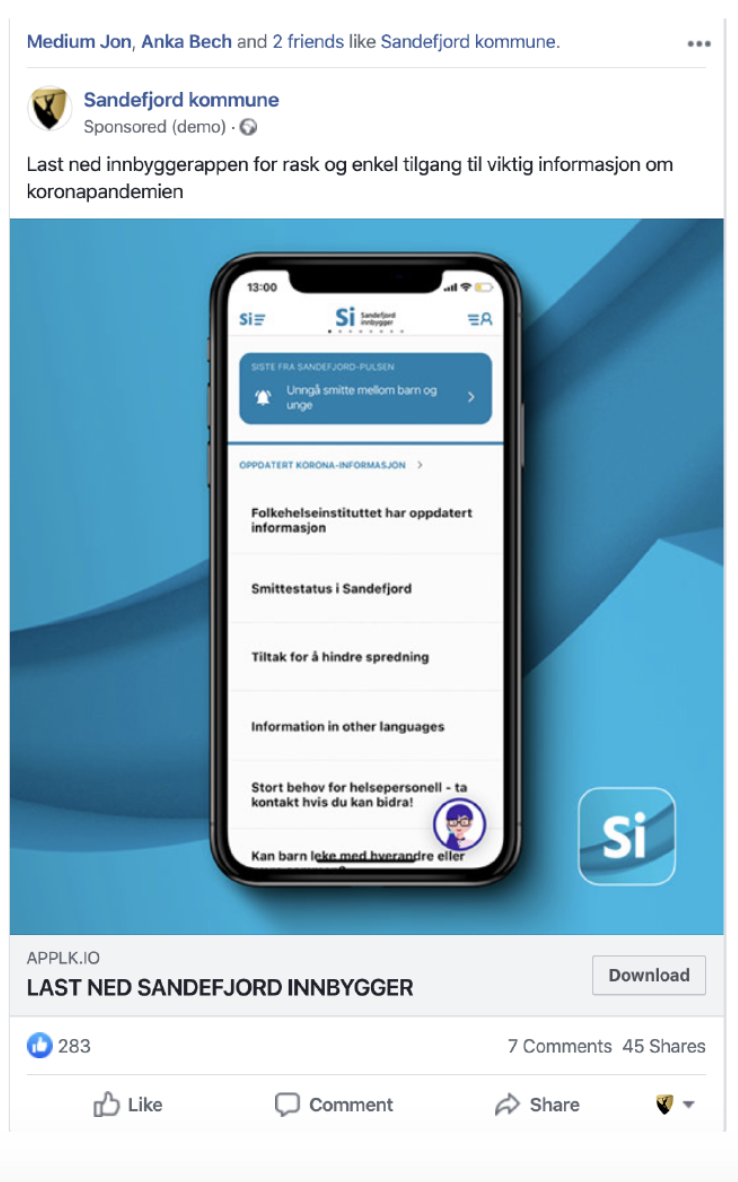 An urgent approach that builds lasting value for municipalities and residents
Establishing this channel for citizen information builds users and habits that the local community and city government can build on for years to come. The user base can be transferred to other future solutions, or the city can choose to extend the offering with additional building blocks, creating a useful and relevant platform for citizen participation and smart city services. Read more here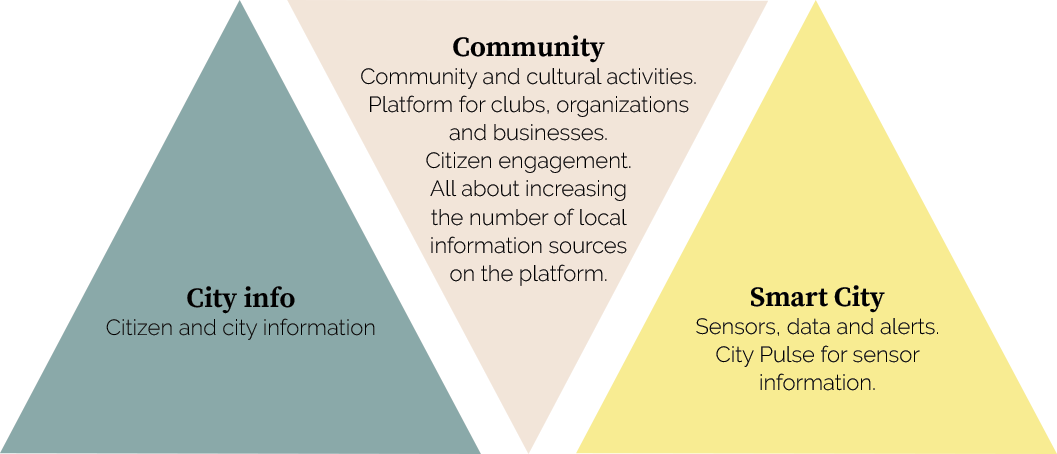 Relevance platform – personalization, segmentation and source selection.
Contact us, and we will help you
Innocode Inc., USA
Steinar Bjornsen
steinar@innocode.com
+1 415 351 8515
470 Ramona Street,
Palo Alto, CA 94301
Innocode Norway
post@innocode.no
+47 934 25 000
Fredensborgveien 24d
0177 Oslo, Norway